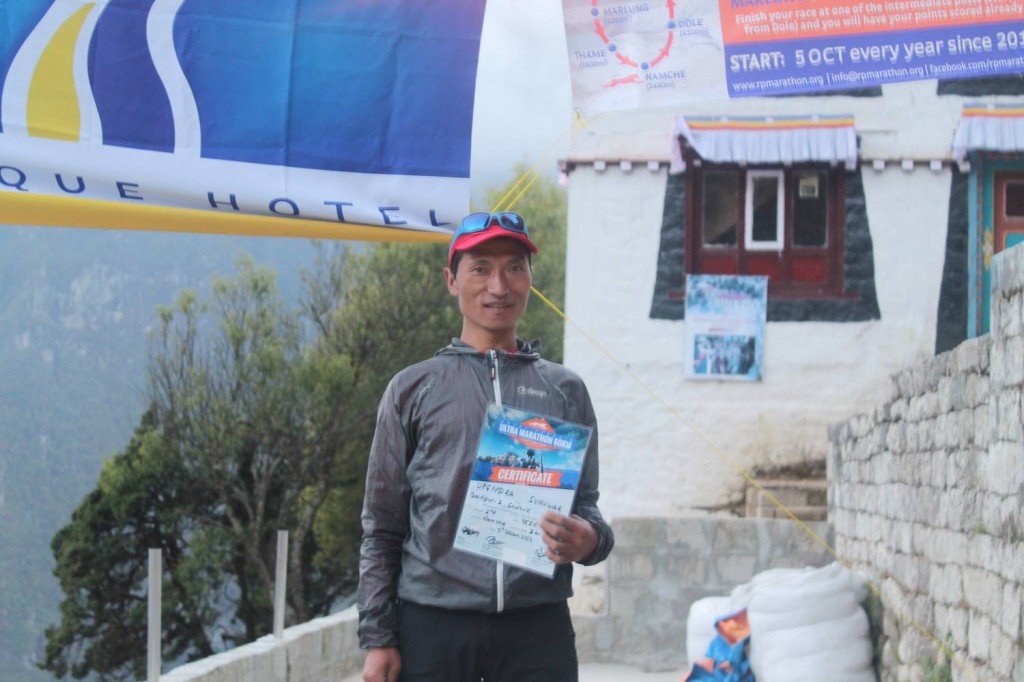 From the organizers:
1) The closing ceremony had gone very well. We had our runners and VIP guests from Namche Bazaar:
* Sonam Gyalzen Sherpa – President of Sagarmatha Buffer zone council
* Ang Nuru Sherpa – President of Namche Youth Club
* Ang Dorje Sherpa – President of SPCC (Sagarmatha Pollution Control Committee)
* Laxmi Bhakta Shrestha – Major of Army in Namche Bazaar
* Ramkaji Thami – Inspector of Namche Bazaar
Thank you very much for support and big help during the event, and also for valuable advices.
2) The certificates and the prize money were delivered to the participants by the VIP guests and the organizer of the Marathon Elka with a help of media coordinator of the Marathon Krishna Dangi (Republica).
3) The organizers were so impressed by the results that the prize money were raised – winner (Pemba Sherpa) got 30 000 rs instead of 20 000, runner up (yeah, literally!) Upendra Sunuwar got 20 000 rs, 3rd runner Karma Sarki Sherpa (and frequent Everest climber) took 10 000 rs, 1st female Ang Chhutin Sherpa got 10 000 rs as well and a separate certificate, and a veteran Nima Tsering Sherpa (and also frequent Everest climber, along with Lhotse and Nuptse) finished first among the veterans and got 10 000 rs.
4) Full list of participants who completed the route:
1 Pemba Sherpa Male 7 hrs 24 min
2 Upendra Sunuwar Male 7 hrs 30 min
3 Karma Sarki Sherpa Male 7 hrs 48 min
4 Maan Bahadur Rai Male 8 hrs 53 min
5 Nima Tsering Sherpa Male 9 hrs 2 min
6 Ang Chhutin Sherpa Female 9 hrs 11 min
7 Pasang Gyalzen Sherpa Male 9 hrs 11 min
8 Pasang Tenzing Sherpa Male 10 hrs 5 min
9 Kiran Kulung Male 10 hrs 31 min
10 Janata Rai Male 10 hrs 31 min
12 Pasang Dikee Sherpa Female 10 hrs 56 min
13 Elka Female 14 hrs 16 min
14 Bo Male 14 hrs 22 min
15 Ekaterina Female 16 hrs 25 min
16 Rikki Female 9 hrs 11 min upto Gokyo
17 Olga Female Upto Dole
2 foreign participants (Germany and Netherlands) only reached Mong and were not ranked.
5) We are going to update all news on the website, post all pictures (still to be collected as so many were taken) and videos.
6) Also we collected all information from our VIP guests about improvements for the next year and requirements from the participants about the whole organization and we are going to make these requirements live.
7) The profiles of the participants are going to be created on the website, along with your achievements and points shortly. It will be announced on Facebook.
8) More ideas and more enthusiasm came and we have really big plans for the next year. This was a very transformative event, and we are happy and proud to hold it, to participate in it, to get to know so many wonderful people.
9) Thanks a lot to the local team who helped to organize the event.
Kami Doma Sherpa and Tsedam Sherpa, owners of Zamling Guest house. They helped a lot with many things and held the party at the closing ceremony.
10) Thanks to the team of journalists, who helped to make the event known all over the word:
Krishna Dangi – media coordinator of the event (Republica)
Ankit Adhikari from Himalayan Times
Pradip Bashyal from Nepal magazine
Weena Pun from Kathmandu Post
11) Thanks to our friendly doctor Bishnu Dutta Acharya, who stayed in Renjo Pass all the time to support the event. And to Mingma Sherpa from Royal Penguin Boutique Hotel who did a lot of work to collect and finalize the results and make many necessary preparations.
12) Tashi Gurung – one of the owners of the event sponsor – Royal Penguin Boutique Hotel – sends his regards and wishes to the runners to join the marathon again next year. He has been following the event very closely all the time and also proud to be a part of such an event.
Heartily thanking you very much, all of you. I'm proud to be a part of this event and proud to get to know you.
shaking hands,
Elka
Organizer, sponsor and runner
PS a lot more interesting information and photos are to be uploaded within the coming days. Along with the insights from the runners and organizers.